The FM Organ (2018) is a playable drone instrument; built using 10 FM transmitters and 27 FM radios.
Fake news and the popularisation of media distribution means we are all guilty of sharing false or biased news and stories, often unwittingly. The news is oversimplified, real events become click-bait. Every situation has at least two sides and an observer's perspective can be distorted depending from where the story is viewed. With a little research and consideration, you can choose to create harmony, or you can choose to create dissonance.
It is up to you.
---
BLUEDOT FESTIVAL
 Along with Alison Smith we were asked exhibit our collaborative light and sound installation at Bluedot festival 2017.
You can hear the soundscape created especially for the festival below. Enjoy!
---
River Holme Project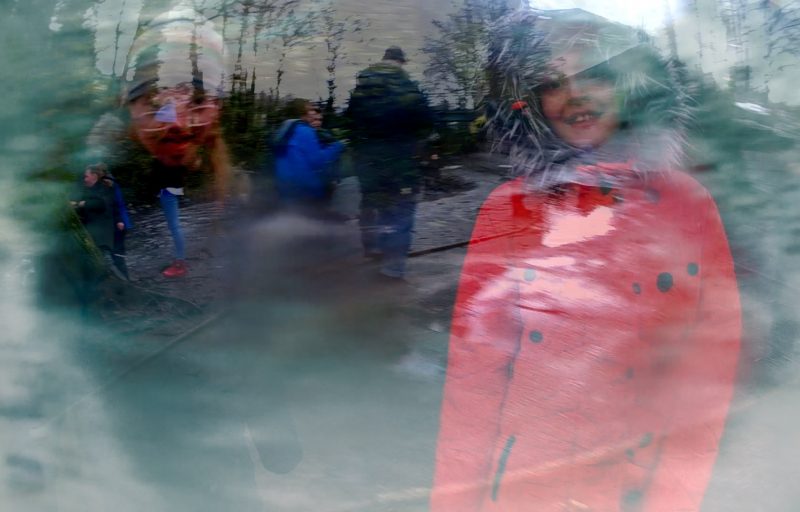 Working with Holmfirth based conservation charity, River Holme Connections and artists Ben Simpson and Alistair Macdonald,  Napoleon IVth managed an Arts Council England funded community project which bought together three strains of art; sound art, visual art and video art.
All art works created during this project can be found on the River Holme Project page. 
UnCommons #3 - Cliffe Castle Museum Experience
---
On the 28th May 2017, 11 people performed a brand new composition especially written by James of Napoleon IVth, for Cliffe Castle in Keighley as part of Bradford Threadfest and UnCommons #3.
Musicians were based in small groups throughout the building and conducted via text message from a central point. Pace was dictated by the speed that text messages sent from James' phone and the time they took to arrive at the performers phones.
A brand new recording of this composition will be posted here soon.
Instructions to performers were as follows
Please set your phones to the most standard sounding text message notification sound as possible and leave the ringers on.
Each box above contains a list of notes you can play. Once you receive a text with a box number (ie. 1, 2, 3 etc), please play these notes in any order, at any speed and in any octave. You do not have to synchronise with the other musicians around you. Some of these sections are blank, please do not play during these sections.
When you receive a text with the word STOP, please stop playing.
At the end of the performance I will text END, please slowly get quieter until you can no longer be heard, then stop.
---
Sound Document - Leeds Central Library
On the 26th and 27th September 2015 we took over Leeds Central Library.
The survival of our libraries relies upon your support…….
Traditionally silent places, this installation challenged the notion of a library as a noiseless environment. The intention was to draw attention to the increasing pressures placed on libraries, not only through cuts in funding but also through the steady progression of the digital age,  libraries must evolve and are evolving in order to survive.
This sound installation was produced from scratch in the preceding weeks. It drew upon both the experience of those who regularly use and rely on the library as well as the fabric and history of the grade ii listed building itself. Live musicians performed alongside recorded sound and music emanating from 26 separate speakers placed around the library.
The general public were encouraged to join in and were welcomed to bring acoustic instruments, an ear and an open mind.
---
---

---
Evangelist - the remix
---
Our reworking of Buffalo's 2014 installation 'Evangelist'.
Evangelist is ten songs based on episodes in the life of one of America's most notorious television evangelists presented in a nine room, immersive installation. The songs and installations explore the charisma, drive, relationships, successes, failures and tragedies of an engrossing character.
Our remix combined elements of these recordings with live performances in surround sound.
www.makenosmallplanshere.com
www.twitter.com/buffalospaces
www.buffalospaces.bandcamp.com/album/evangelist
---
---
Open House 2014 - Union Chapel
---
Sound installation  produced from scratch in the run up to the Open House Weekend 2014. It drew upon both the experiences of those who regularly use and rely on and Union Chapel as well as and the fabric and history of the building itself.
Collaborators include includes Tom Rogerson (Three Trapped Tigers) and artist Joanna McCormick.
Many people who regularly attend concerts at Union Chapel are completely unaware of the service and support that The Margins Project provides for people facing homelessness, crisis and isolation in the local community and beyond. The purpose of this installation is to connect the experience of Margins Project participants with the public visiting the building throughout the Open House Weekend, serving to increase public awareness of this important work.
---
---
---
Copyright 2015 Napoleon IIIrd | All Rights Reserved